An implant is an artificial root which is placed into the bone to support your new teeth. The implant is made of titanium which integrates with the bone. A new crown or dentures can then be cemented or screwed over the implant.
Benefits of Dental Implants.
Dental Implants are an ideal replacement to missing teeth, they look, feel and function just like natural teeth and people may not even know that you have an artificial tooth.
DENTAL IMPLANT STANDARD PROCEDURE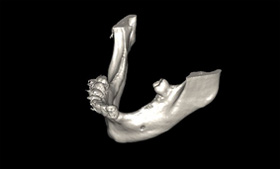 First Appointment

The first visit consists of a consultation. During this essential dental x-rays are obtained and the area where implants will be placed is evaluated to make sure that the quality of the bone is good and quantity of the surrounding bone is sufficient to support an implant. A diagnostic impression is also taken. A 3-Dimensional planning with the help of advanced software for accurate placement of implants is done, resulting in predictable results.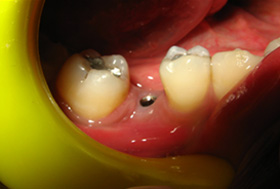 Second Appointment
The implant is placed in the jaw bone and allowed to heal and incorporate with the surrounding bone. The time it takes for a dental implant to integrate with the hard tissues varies between 3-6 months.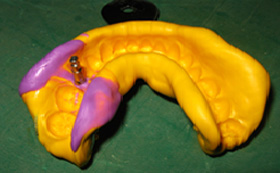 Third Appointment
Impression for a crown is made.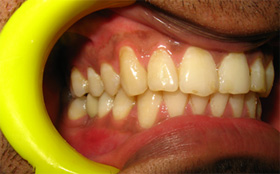 Fourth Appointment
The new crown is tried in place on the implants, to confirm a perfect fit and good color match with surrounding teeth, and is finally cemented in place.