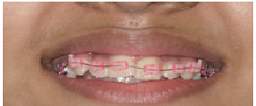 Many people have crowded or crooked teeth. Orthodontic treatment or braces, will straighten the teeth or move them into a better position. This not only improves their appearance but also the way the teeth bite together, while making them easier to clean.
Some patients want colourful braces and are so happy with them, that everytime they want a new colour.
One of our very own patients, with ongoing treatment:
About invisible Braces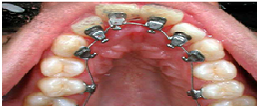 They are tough, clear plastic 'aligners'/ invisalign, that are used to straighten teeth. Each set is worn for two weeks before being replaced with the next one. They are made from clear plastic, so they are nearly invisible. These are case specific.They can be easily removed for eating, drinking, brushing and flossing.
About Lingual Braces
These are places on the inner side of the teeth, so that they are not visible from outside.