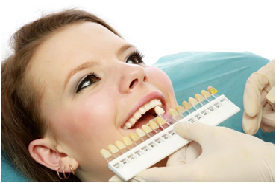 Image is extremely important to people now more so than ever. A whiter, brighter smile can make one instantly feel better. Sometimes, life style choices such as smoking, tobacco chewing, consumption of excessive tea, coffee, red wine, cola.. or just aging can result in stained, dark teeth.
Teeth Whitening is the simplest and safest step towards a smile makeover, and now you can smile confidently, flaunting your new found smile.Today more and more people worldwide are choosing to get their teeth whitened with the use of professional teeth whitening procedure.
You can choose: Teeth whitening at home using our home whitening kit orinstant Professional teeth whitening can be done in a single visit appointment of approximately 60 minutes with amazing results at iDENT.